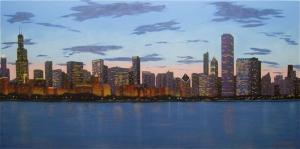 "CHICAGO SKYLINE Ė EVENING APPROACHES"

Iíve been wanting to paint this view of the city for a number of years. To my knowledge, Itís the most breath-taking skyline view of any city in the world. Lucky me, I happen to live in that city. 

However, be that as it may, the painting is really more about the light than it is about the city.




Capturing the light of a certain time of the day is always a delightful challenge for any painter, whether it be morning, mid day or twilight. Things seem to change so fast, especially in the evening. One moment the sun is setting. You blink your eyes and suddenly it's gone and the city lights are on!

Part of the fun (and challenge!) is capturing the glow of the light that appears various parts of the scene. Here I was particularly drawn to trying to capture the glow the lights of Michigan Avenue cast on the buildings, the subtle reflections of light in the water, and the twinkling lights in the magnificent buildings along the Lake Michigan shoreline as evening turns into night.

I'm especially pleased with the fading light in the sky and the clouds which give depth to the painting.

What are your thoughts and reflections on this image? What could I have improved?

Order this painting (or a print of it) at JLorenReedy.com

Let's connect on Facebook @ www.facebook.com/JLorenReedy