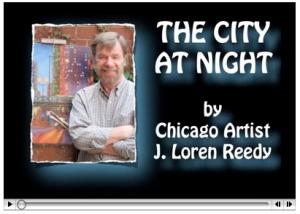 "THE CITY AT NIGHT" PRINTS

I'm very excited to announce that prints of the images in my popular YouTube® video are now available for the first time! If you've not seen the video yet Click Here to watch it.

These are ABSOLUTELY GORGEOUS, high quality prints which are available in a variety of styles. You can get a canvas print mounted on stretcher bars, a frame print with your choice of 9 different frame styles and 18 colors to choose from, a standard paper print with 7 different paper types to choose from, or you can order the images as greeting cards.

These fine art prints will definitely make a statement in your home or office. They give you the opportunity to own fine art reproductions at a fraction of the cost of the originals. Of course the originals, for many of the images, are also available.

These prints also make for great gifts any time – birthdays, anniversaries, graduation, weddings – but especially bear this in mind as the upcoming Holiday Season approaches . GIVE THE GIFT OF FINE ART! It's guaranteed to get a great response.

I've put together a special webpage giving you all the details. Just go to City At Night Prints to learn more about this great offer!

Be sure and contact me at JLorenReedy.com if you you have any questions.